You sell. We do the rest.
Full integration with all your sales channels.
Error-free order preparation thanks to our technology..

Access to suppliers' private catalogues with dropshipping possibilities..
We are specialists in cash on delivery, with mechanisms to increase your earnings.
We manage your warehouse for FBA.
We have unbeatable national and international shipping rates.
All supported by our Oceges ecommerce management software.
What is Oceges Fulfillment?
Warehouse
We receive and store your stock safely in our warehouse.
Software
We give you premium access to our software so you can monitor everything that happens in real time.
Packing
We prepare all your orders efficiently, quickly and without errors thanks to the technology offered by Oceges.
Premium rates
We give you access to the most competitive shipping rates in the market, even if you have a small volume of shipments.
How does the service work?
1. Send us your stock
Choose the products you want us to stock and distribute for you. Send us the goods from your warehouse or directly from the distributor. We will take care of checking and picking. 
If you don't have any goods, don't worry, contact us and we will advise you on how to get started with your dropshipping project.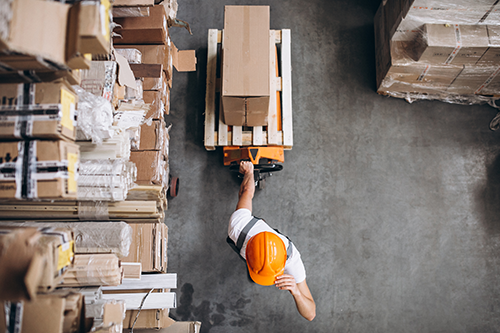 2. We prepare your orders
Thanks to our total synchronisation with your sales channels (Shopify, Woocommerce, Amazon, eBay…), we receive your orders automatically in Oceges and we take care of shipping them without you having to do a thing.
We use our agreements with the most important carriers in the sector and apply the most competitive rates.
3. We inform your customers
After preparing your orders, we send the tracking number to your sales channels and your customers automatically.
You will be informed at all times of the status of your shipments, both you and your end customers. If any incident arises during transport, you will be able to detect it and solve it efficiently.
4. We pay for your orders cash on delivery
If you opt for a cash on delivery strategy through ad campaigns, we take care of collecting them for you and transfer the money to you on a weekly basis, in a fully transparent, detailed and secure manner.
You don't need to make direct arrangements with the carrier. We take care of this management for you so that you don't have to worry about anything.
What's the difference from the rest?
Full transparency
At all times you will be able to see what is happening with your orders, when they are being prepared, how much stock you have available and a host of other options.
Cutting-edge software
We are experts in ecommerce software and management and we know your needs first hand. That's why we offer you what you need.
Cash on delivery
We are one of the few companies that offer you a complete logistic service with the possibility of cash on delivery.
Proximity
We are a young team in continuous development. We understand all your needs and welcome any suggestions you may have.
We don't like small print. That's why we show you the cost of the service in a totally transparent way, with no surprises or surprises.
SERVICE
COST*
Receipt of goods and picking
Free
Storage
Bonus (stock in rotation)
dead stock <15€/m

³ month

Packing (order preparation)
< 1 € < per order
Depending on order volume

Software

Depending on the modules chosen Special rates for Oceges Fulfillment customers

Preparation for FBA

From 0,20€ / SKU To be determined by product characteristics

*Price excluding VAT and other taxes
In accordance with current data protection regulations, we detail basic information on the processing of the data collected in this form and you can find further information in our privacy policy.
Data controller: RAMPER DEVELOPMENTS AND TRADING, SL. The purpose of the processing is to assist and respond to your requests or queries and to maintain the resulting contacts and relationships. We do not transfer your data to third parties and they will be kept as long as our business relationship is maintained.
Rights: access, rectification, cancellation, opposition, restriction of processing, portability by contacting us at: info@oceges.com or as indicated in our data protection policy.
Get started now completely free of charge
We offer you a 14-day free trial, with no obligation.